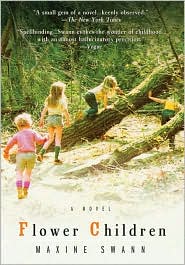 Yeah, I've been reading a lot lately. I picked this book up at Blue Cypress Books in NOLA the last time I was there, when I had some time to kill. Since I finished
Townie
yesterday, I tossed this book in my tote bag when I went out to run errands. It was a quick read - I finished it in the wee hours this morning after one of the cats woke me up and I couldn't get back to sleep.
Flower Children
is about four siblings being raised by hippie parents in the 1970s. It has more of a short story (or short story collection) feel than a novel feel. There isn't exactly a central plot, and the perspective shifts fairly often. It worked for me, though, because the descriptions of the children's lives were so rich and honest, and because I wanted to see what the crazy adults would do next. It reminded me at times of Augusten Burroughs'
Running With Scissors
- but without the bitter humor. Which is not to say there weren't funny parts in
Flower Children
, but overall it had a more subtle and poetic tone.
I recommend this one for anyone fascinated by hippie culture, or anyone looking for a beautifully written book with a unique style.